Insights
Why choose Salesforce CRM
Tinext is a Salesforce CRM integrator partner. In this article, we explain the reasons for our choice.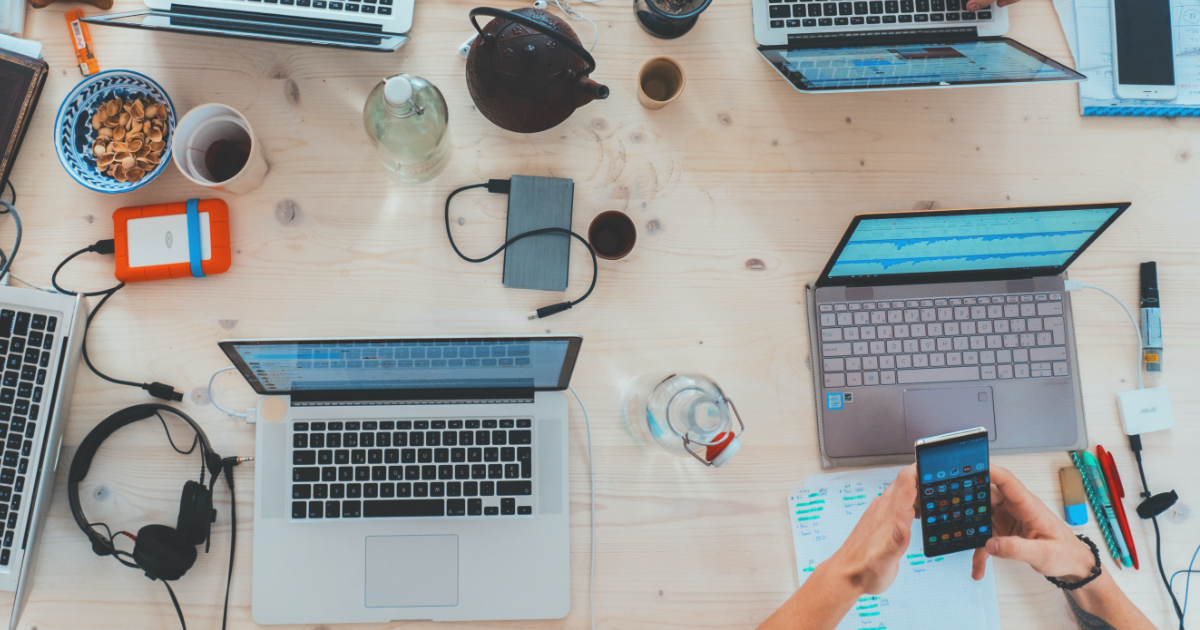 What is the strength of Salesforce CRM?
The answer to this question is one of the main reasons we chose Salesforce CRM. It can be summed up in one word: adaptability.
Salesforce is a complete and scalable solution. The software is so scalable that it can adapt to the needs of small businesses and multinationals alike. Better yet, it can grow with the company that buys it. And in a world where planned obsolescence has invaded every industry, Salesforce has decided to offer a solution based on continuous improvement.
One size fits all, with the right features for everyone
And when we say adaptability, we're not just talking about company size! Indeed, the CRM integrates different functionalities that follow the customer's path throughout their purchase, both in a B2C and B2B market. Thus, the different modules accompany your customers at each stage of this journey:
Marketing: acquisition of new leads, loyalty, promotional offers, social networks, emailing, SMS, campaign management, etc.
Sales: account and contact tracking, opportunity management, quotes, collaborative work, etc.
Customer service: follow-up of customer requests, call center management, organization of technical teams' interventions, customer knowledge base, etc.
Analytics: integrated reporting tools and dashboards, business intelligence, etc.
A vertical offer by sector
In keeping with this desire for improvement and customization, Salesforce has launched specialized offerings for different industries. There are now turnkey solutions for:
Industry
Education
Healthcare
...
These new versions of Salesforce CRM include functionalities dedicated to the various professions and their daily problems.
A CRM to collect and track customer information
As a specialist in digital experience and web portals, Tinext has set up analysis processes to collect the needs of its customers and partners. Throughout our projects, we have been in contact with numerous stakeholders within a company: Management, Human Resources, Sales, Marketing, Accounting, Production, Quality, etc.
Thus, we noticed that whatever the company or its market, it is difficult to align all the stakeholders on common objectives and expectations. Moreover, the processes and work habits in place do not always facilitate internal communication.
Therefore, we have chosen to study the following information flows:
What type of data does each team need?
How can this data be collected and transmitted internally?
How do we automate certain work processes and improve productivity?
Choose Salesforce, the CRM for optimizing your marketing efforts
As previously mentioned, Salesforce was designed to follow the entire customer journey. And what's the first step in that journey? Attracting new customers and prospects. So, the CRM giant has developed solutions that can help at this stage. Thus, the CRM is not only a sales tool, but it can also intervene upstream, for the implementation and monitoring of marketing actions.

There are two solutions to process leads and accompany them until they reach maturity: Pardot and Marketing Cloud.

They are usually distinguished by saying that Pardot is intended for B2B markets while Marketing Cloud is reserved for B2C. In fact, the difference is based on the desired functionalities. Both tools offer similar functionalities while differentiating themselves on some specific points: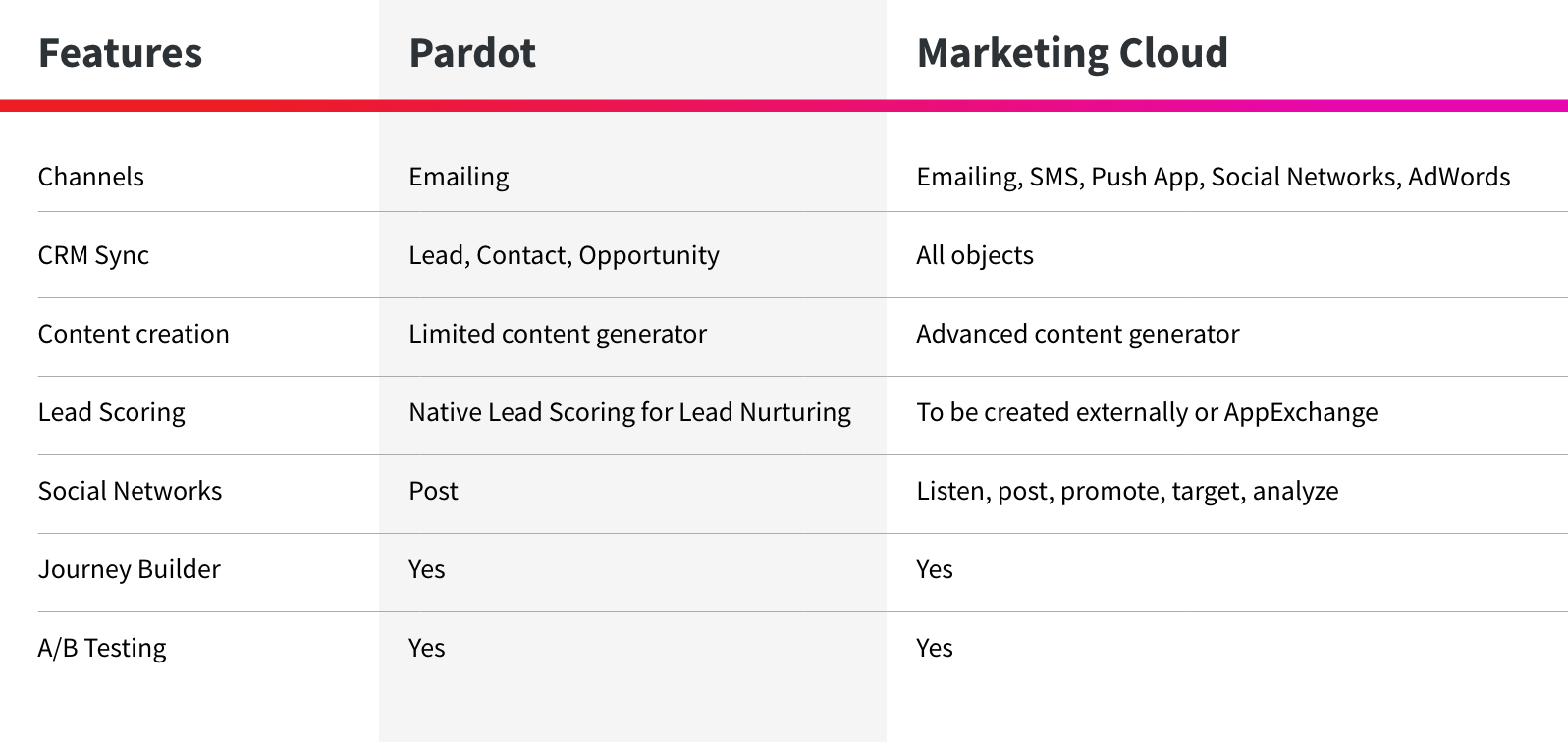 One of the common features is the integrated journey builder, which allows companies to configure the customer journey by integrating all the stages, contact points and actions of the prospect. Moreover, the marketing actions to be implemented for each stage are preconfigured and automated!
Salesforce, the customer CRM, from lead to contract
The days when salespeople went door-to-door with leather briefcases and corporate brochures under their arms are over. Consumers now expect a targeted, personalized approach. It is therefore necessary to support the sales force with a complete tool, allowing them to have a 360° view of their customers. Salesforce developed Sales Cloud to meet this objective.
Customer information is at the heart of the system!

Sales Cloud is the solution to help sales teams (among others) in their daily work. Access to customer information is simplified with an ergonomic and customizable view. This detailed view of the company or contact file allows the different actors in the company to access any type of useful information to personalize their approach to customers and prospects. It also allows them to add content, tasks, reminders or follow up on business opportunities...
Opportunity Tracking

Choosing Salesforce CRM also opens up an even wider range of possibilities for managing offers and sales prospects. Sales Cloud allows for:
The most accurate overview of the pipeline
Collaborative work on an offer or any customer-related topic
The creation of detailed quotes based on a product / service repository
Generation of a contract
Electronic signature
...
Choose Salesforce CRM to put the customer at the heart of your business strategy
Prospecting costs 10 times more than retaining a customer. That's why it's best to provide the right service to your customers to meet all their needs and keep them satisfied. At the very least, you need to build customer loyalty, and in the best case, they will become ambassadors of their favorite companies and brands. To help build strong customer relationships, Salesforce offers Service Cloud.
Our CRM partner reports a 32% increase in customer satisfaction thanks to its customer support software, which includes the following features that can be useful to all kinds of companies

Request Management

Service Cloud allows sales and support teams to access all customer requests through a clear and simplified interface. Cases can be classified, categorized and tracked to ensure the best response to requests. These same requests can be the source of tasks that can be assigned to different actors within your company. Everything can be tracked, monitored and accessed in customizable dashboards or reports!
Routing and automation

Service Cloud offers many ways to automate your customer service management and improve productivity. For example, depending on the nature of the request, it can be routed directly to the person most likely to respond to the need, or to the person with the most bandwidth to process it. A workflow system can also be designed so that the processing of the task follows a pre-established process, perfectly in line with the company's operations.

Account and contact management

All customer information gathered during marketing and sales approaches can be made available to the customer service department so that it has all the necessary details to respond to requests. And vice versa, all exchanges between the customer and the support department can be useful for the sales or marketing teams in a renewal or loyalty approach.
Choose Salesforce CRM for its scalability 
To conclude, one last argument that convinced us to choose Salesforce and become partners is its ability to evolve and continuously improve. In this article, we've highlighted the most popular and most requested features, but we could have covered other tools as well.

Among them, Experience Cloud, for example, which allows you to create portals (customer, employee, website, e-commerce) and interconnect them with the CRM.

We could also mention the recent acquisition of Tableau, a reporting and business intelligence tool that will become an additional argument for implementing Salesforce.

There is also Slack, the instant messaging software, which has just joined the Salesforce family, and which will be an extra asset to promote collaborative work or to interact with customers.

As you may have guessed, choosing Salesforce CRM is the assurance of relying on a powerful, customizable and scalable tool.
Interested? Contact our team of Salesforce consultants and experts to learn more.
Discover our Salesforce expertise