Insights
Stefano's vision for developing Tinext in French-speaking Switzerland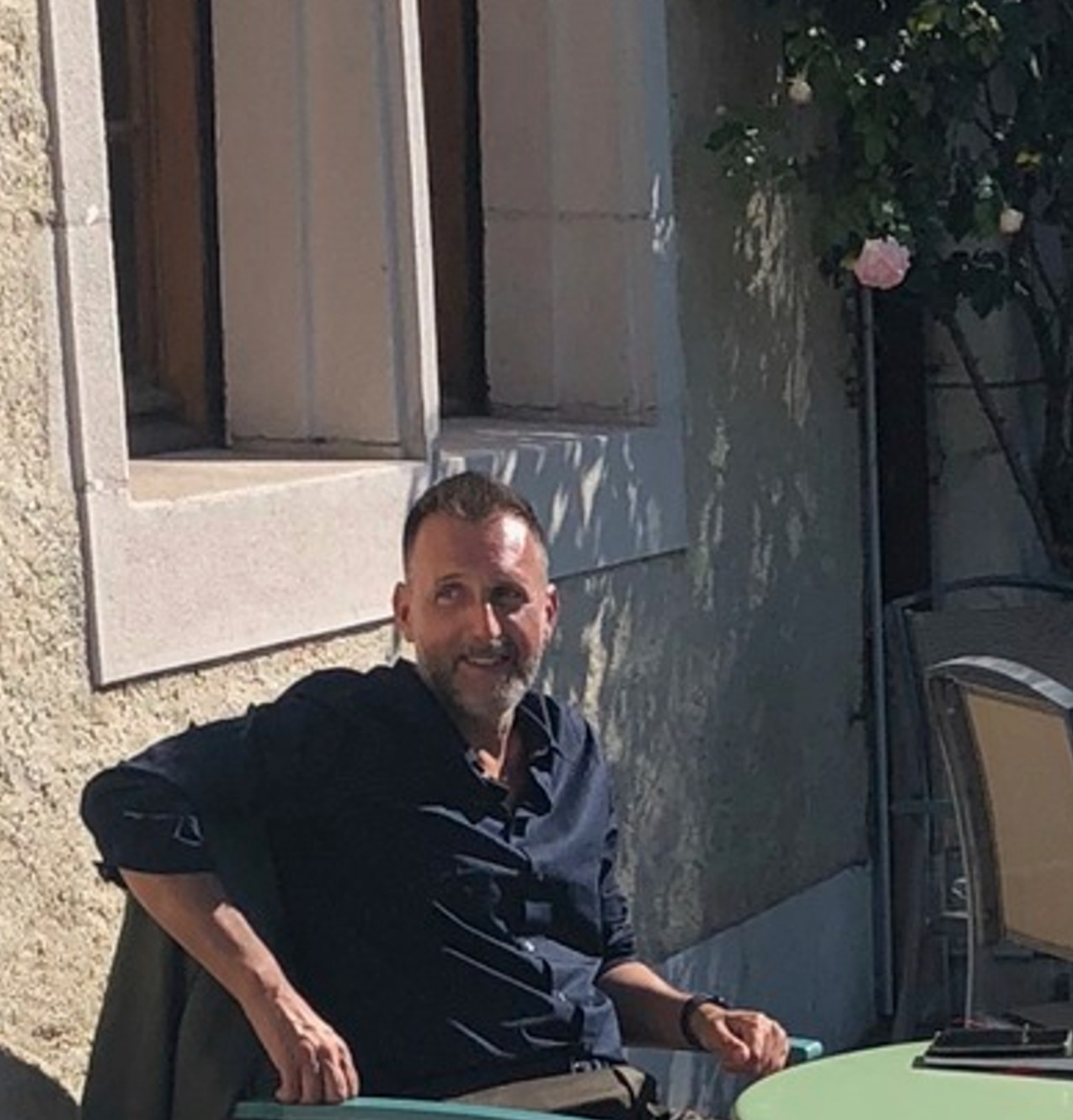 We are in Yvoire, on the day dedicated to the recording of our three podcast episodes.

In between recordings we have the opportunity to talk. To get to know each other better, to understand the intentions and ambitions of each of the people who make up the Tinext team in French-speaking Switzerland.

The enchanted space of the Domaine de la Rovorée, hosting us, has a beautiful lounge on the first floor where Stefano and Lydie have taken refuge to prepare their performance. Huddled in velvet armchairs that seem devilishly comfortable. They chat in low voices, asides, and one can sense a great connivance between them.

That' s where Sacheen sneaks in, discreet so as not to interrupt them, but attentive to their discussion. Not just out of curiosity, but to feed the content of this article.
Introducing Stefano, the CEO with a distinctive southern accent
Stefano is the CEO of Tinext. And we're lucky enough to have him with us today for the podcast recording. He is based in Ticino, where the company is headquartered. He travelled across the country to join the French-speaking Swiss team and take part in this day of sharing and the recording of the episodes.

After studying Literature and Philosophy with a specialization in History and Economics at the Università Statale di Milano, Stefano started his career in communication. When he started his career, the companies he worked for offered a wide range of internet-related services. Therefore, from the very beginning, he had the opportunity to work on the earliest digital projects in Italy.

After this first experience, he co-founded a web solutions development company. This company was then acquired by Tinext and Stefano joined the structure as a sales manager. Then he took over as head of the web department, before becoming CEO in 2013.
Interview - Stefano's vision in 14 questions
The open windows let in the sun and the air of Lake Geneva, a few meters away. You can hear the sound of a lawnmower, in the middle of nature. The temperature is cool, it's the end of summer.
Stefano has his computer on his knees, his hand on his forehead, he turns the sentences in his head and nothing interrupts this studious moment.

Then he gets up. He has a cup of coffee to warm up and stimulate his thoughts, and the interview begins.
1.    How was Tinext born?
It's hard to say, it's a combination of different things.
Over the last 4-5 years, we've seen a big focus developing around digital and content management tools.
Tinext is in fact the sequel to the history of Tinet, a company that has been providing internet connectivity in Ticino since 1994. The company was sold to Cablecom, and Tinext came to create the continuation of the story from 2001. We developed the Italian market, then came the time to develop the Swiss market.

French-speaking Switzerland seemed more accessible to us, culturally speaking. We already had customers in French-speaking Switzerland. The German-speaking part of Switzerland will follow later on, no doubt.
2.    At what point did French-speaking Switzerland become a priority for Tinext's development?
When I started in my new role at the end of 2013, I had already had some experience with French-speaking Switzerland, with specific clients. For example, I worked with the City of Lausanne.

If we talk about distance, Romandie is not the closest to Ticino. On the other hand, we are close from a cultural point of view. It is for these reasons that we wanted to develop this market as a priority.
Which, it should be noted, is at least five times larger than Ticino.
3.    Was having offices based in French-speaking Switzerland always an obvious choice for developing this market?
We realized very quickly that a market cannot be managed from a distance. It is necessary to be present, to know a network, to have a physical and cultural proximity. And a good understanding of the market is only possible by being on the spot.

A long-term customer relationship can only be built by being present. This is why we decided to have an office and a team dedicated to this market.
4.    And you, have you ever thought of coming to French-speaking Switzerland?
Before Covid, I used to come very often. On average two weeks a month at the beginning, then at least once a month.
Now I can come less often but I hope to be able to resume a more regular rhythm. Especially since there is now a team on site.
5.    How do you manage team meetings?
We do a lot of video conferencing. There's still a lot of remote working going on, although we're slowly getting back into the swing of things.

We really miss the relationship with our customers. And with our colleagues too! Having a coffee or lunch together. Or even going for a run with colleagues, something we did quite often in our Ticino offices before the pandemic. We have everything we need: showers, gathering places...

It's very important to have such moments of togetherness. I'm looking forward to getting back to this way of managing professional relationships.
6.    Have you ever gone running with your clients?
Yes! Not recently, but yes I have.
7. What is your best memory with the teams in French-speaking Switzerland?
If we talk about the last three months, I would say the meeting with the whole team. Sharing with them and discovering the different professional and human experiences of each member.

And before that, the opening of the office.
The meeting with new potential clients. The development of the "Go to market" strategy, how to position oneself, build a tailor-made proposal for the market. Because what works well in Ticino or in Italy is not necessarily adapted to the French-speaking market.
So, you have to understand who you are addressing, what skills you need to put forward, and create a specific value position for the market. It takes time but it's also very interesting!
8.    Is there a moment of sharing with the teams that you would like to tell us about?
The experience we had at the Residence in Yvoire, during the recording of the podcast. It was a moment of sharing, like nothing we've ever had in our usual meetings.

We talked about the culture of the company, how to build a client relationship in Geneva, the elements that make this office special compared to the market, what makes us different from other established companies.

It was a very open discussion, out of the box.
9.    When it comes to digitalization, are there any companies or areas that you prefer working on?
I find everything related to retail very interesting, because there are interactions with the end user, on several channels. We've worked on projects with very high stakes. There are many elements to consider.
In the market, locally, I think there are also companies that are in a very interesting moment: the realization of a big change. They've reached the perfect moment of maturity. And I find it very interesting to be there at that moment. It's energizing!
10.    Is there an ideal time to approach Tinext?
Yes, the ideal time is when the company has understood the need and urgency to make a change. But before choosing a particular tool, they want to take a step back and better understand which customer relationship is the most important and strategic.

If you start at this point, chances are you'll be able to implement a journey that will have value.
11.    What is the most valuable role you can play for a company?
First of all, at the very beginning of the process, it's about understanding the potential and prioritizing the activities that you can implement with the client. These are the first important steps.
Then the selection of the right tools, their implementation and the necessary technical integrations.

We define the measures to be taken. This is a strategic moment, the moment of decision. And our value is there. We bring our expertise and support. We are a kind of "sparring partner" to better understand how to start and what priorities to give to the different projects to be aligned with the issues that the companies are facing on the customer side.
12.    Can this process towards digitalization fail, can it go wrong for the company?
Yes. There is no miracle recipe. The reason is that, often, a lot of pressure is put on senior management, on the board, to implement transformations. I have seen this a lot since 2021. And the projects are not always mature in terms of design, positioning, solutions to be put in place, internal resources. They don't have the necessary elements to implement them.

Sometimes we work on projects that are based on tools or technologies that are very complete, with very powerful capabilities. But no one in the company can handle it. Because the focus has been on the adoption of the tool, but not on the benefit it can bring over the long term or on how it can evolve.

It's very frustrating, because the budgets are large and require a lot of energy and external resources. And once they are started, they don't meet the expectations in terms of value to the company.

The other problem I often see is resources in general. Companies realize that if there is another pandemic, they need to be armed to respond. But there just aren't the skills in the marketplace to bring about this huge social transformation, which became an emergency after covid.

So the pressure and the need to do something sometimes doesn't leave us time to do a proper analysis.
13.    You talk a lot about people in your podcast. Why is this important to you?
I find that, as a digital experience designer, you have to consider the human at the center of the digital experience. It's for the human, the user, that we do all this.

There is more and more talk of personalization and clustering. We must be able to recognize the user in all the different touch points and channels. We can't consider that he is different if he arrives via Facebook or e-mail, rather than via the mobile application.

To build this kind of experience, we work from human to human. The elements that are central for us are marketing, customer relations, sales, because they are the ones who have a relationship with the customer. This is where we bring our technical or consulting skills.

We work a lot in the form of workshops, which means human relations. The problem sometimes comes from the company culture, whether or not it is ready for this kind of approach.
14.    And finally, why choose Tinext over another company?
We're the right sized company.
We have highly competent staff, while keeping a human dimension. This allows us to be close to our customers and to discuss at all levels. I've already had the company manager ask to speak with me. Or with the production manager. And that makes a difference.

We are also flexible. So we can align ourselves with the company's objectives. And that's a spirit we want to keep, even with the future growth of the company.
To conclude the interview, we addressed the essential point of de-dramatization.
According to Stefano, we must start by demystifying the notion of digital transformation.

Digitalization, digitizing, these are terms that are sometimes frightening, but in fact all companies go through continuous transformations throughout their existence. The important thing with digitalization is to place the customer at the center of all concerns.

Tinext can help its customers in this endeavor, by shortening the distance with them. Showing empathy, understanding each person's business, and not transforming the entire company, but only their approach towards customers.
"This has been part of our DNA for as long as Tinext has existed, for 20 years," he adds in conclusion.
Thanks to Stefano for his answers and his vision of the Tinext company.

We look forward to sharing our next article with you, in which we will introduce the Tinext team in the French-speaking part of Switzerland and how it came to be.
Listen to the first episode