Insights
Tinext's Western Switzerland team in 27 questions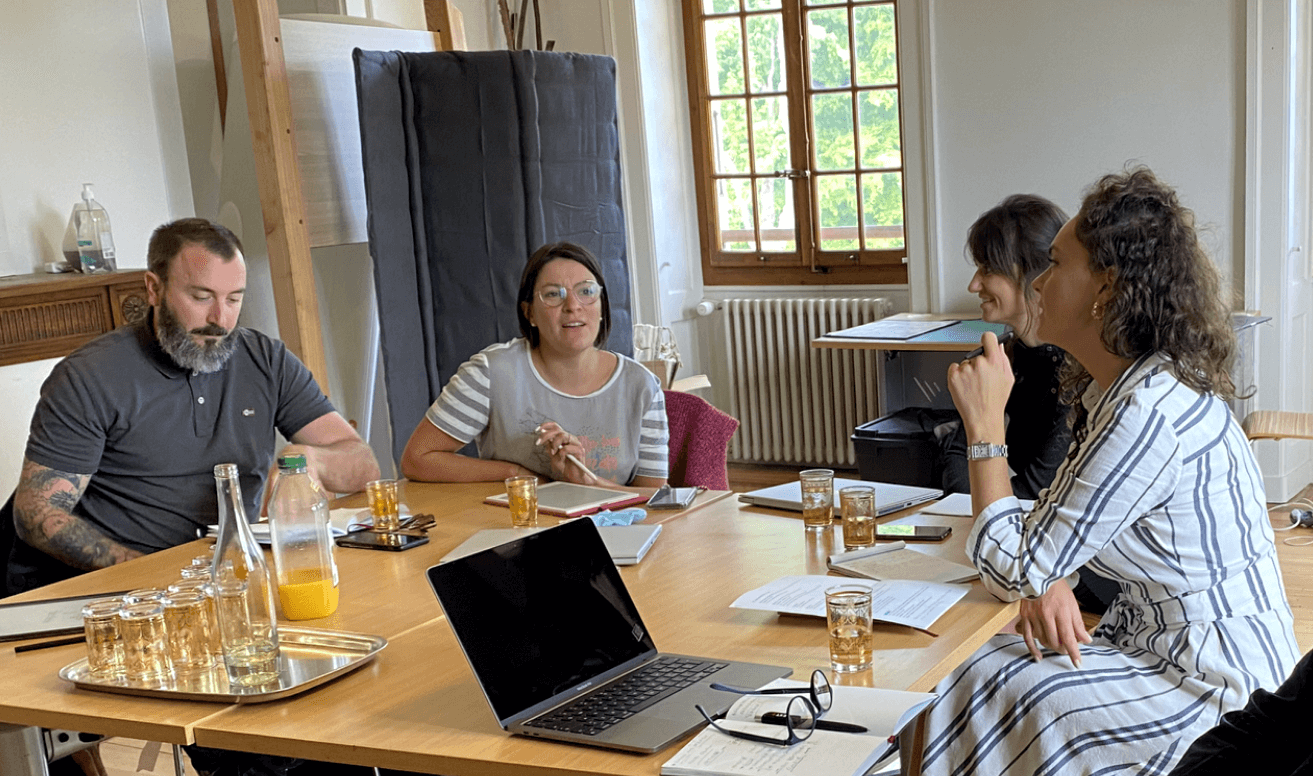 When it comes to choosing a supplier, especially in the service industry, what matters most is the relationship of trust between the client and the team working on the project. The competence of each individual is essential, but sympathy, personality and affinity are equally important. The latter are what will bring joy to the workplace.

To give you an insight into Tinext's team in Western Switzerland, Giulia, Laura and Benjamin have agreed to reveal themselves in a "Chinese portrait" interview. So that you can discover their personality traits in addition to their technical skills. There is no better way to get to know someone than by asking them questions about their interests, hobbies and preferences.

So, let's meet our Genevan trio in 27 questions.
1. What is your precise date of arrival in Tinext's French-speaking Swiss team?
Benjamin: I arrived on June 14, 2021.
Giulia: August 9th, 2021.
Laura: I have been with the company since June 2019.
2. What is your exact title in the company?
Benjamin: DX Consultant.
Giulia: It's DX Marketing Manager, 'DX' stands for digital experience.
Laura: I am a consultant and project manager.
3. What is the most memorable moment of your adventure at Tinext?
Benjamin: What I remember most is the quality of the relationship with the clients.
Giulia: My most memorable moment is the time we spent in Yvoire recording the podcasts.
Laura: My first day with Lydie is the most memorable for me. The warm atmosphere, the perspective of adventure by seeing the potential in front of us, the desire to give everything to create something together.
4. What do you bring to the team in terms of atmosphere?
Benjamin: I hope to bring good mood... With a touch of black humor and impertinence.
Giulia: Joy, dynamism and hopefully a little humor.
Laura: I bring good vibes, listening skills and empathy.
5. Are you more of a quiet force or a fun person?
Benjamin: I'm a mix of both depending on the period.
Giulia: The latter.
Laura: I am the quiet one.
6. Your secret before a stressful meeting?
Benjamin: I don't stress about meetings or presentations. I experience them as a game, a challenge.
Giulia: My secret is to present the key points to myself.
Laura: I need to know my subject inside and out.
7. Your secret after a stressful meeting?
Benjamin: I have the same answer as for the previous question.
Giulia: In the moment, I drink a glass of water and debrief with the team, or another person involved. Later in the day, I'll do a workout.
Laura: I need to relax and laugh with the team.
8. Is there a little quirk in your professional life that you would like to share with us?
Benjamin: I have nothing to declare.
Giulia: Checklists.
Laura: I need chocolate as soon as I get stressed.
9. How many projects/companies/clients do you manage in parallel on average?
Benjamin: I am currently managing 7.
Giulia: I have 5-6 marketing projects that are often running in parallel. (For instance: Tinext website enhancement, SEO efforts, tool optimization, editorial planning, brand awareness on social networks, etc.)
Laura: It all depends on the period, the size of the ongoing projects, the stage of the project, it can range from 3 big projects to a dozen.
10. What is the average number of hours of Tinext meetings with clients per month?
Benjamin: I have no idea, it's very variable.
Giulia: I don't have meetings with external clients, my only client is Tinext ;)
Laura: It depends on the periods and projects... between 10 and 25 hours maybe.
11. Tell us an anecdote about your first week at Tinext?
Benjamin: During the integration week, the HR department had made a great program. Unfortunately, almost all of the people involved changed or cancelled their appointments. As someone who likes autonomy and improvisation, I was served.

12. What is the best compliment you have received from a Tinext client?
Benjamin: Recently, one of our clients was impressed with our ability to understand, the speed of execution and the efficiency of our analysis. It seems hard to get a better compliment.
Giulia: I don't know about a client, but internally, our CEO complimented me on my presentation skills.
Laura: Our biggest client told me that it was a real pleasure to work together. Beyond the quality of the work delivered, the customer relationship is my highest priority.
13. What has the pandemic changed for you in your work?
Benjamin: Digitalization has transformed work habits. It is now recognized that we can work from anywhere. Some companies are behind on this digital transformation... So, they need to contact us as soon as possible so that we can set up the tools that are adapted to their needs and operations.
Giulia: I left entrepreneurship to take on a corporate role when the pandemic started to strongly affect the travel and tourism industry.
Laura: I work more from home, even once the situation went back to normal. It allows me to find a better balance with family life. In the workplace, the adoption of new tools and methods, especially with remote workshops have become the norm.
14. How many companies did you work for before Tinext?
Benjamin: I worked in 11 companies in a wide variety of sectors such as industry, agriculture, education, services, IT, etc.
Giulia: I worked in 5 companies in different fields: innovation, education, renewable energy, content marketing consulting and private banking.
Laura: I have worked in 5 different companies.
15. Do you prefer working alone or as part of a team?
Benjamin: You need both to be effective. You can't do anything on your own, but sometimes you need to be alone to be more productive.
Giulia: Teamwork.
Laura: I prefer to work in a team.
16. Do you prefer to work from home or from the office?
Benjamin: I prefer to work from home.
Giulia: I like to alternate between the two.
Laura: I need both. The relationship with my team is very important, but during some very busy periods, I prefer to isolate myself to be more efficient.
17. Are you more of a Mac or PC person?
Benjamin: I'm definitely on the PC team.
Giulia: I prefer Mac.
Laura: For me it's PC.

18. Are you more of a tea or coffee person?
Benjamin: I prefer hot water.
Giulia: I like coffee, cappuccino more specifically.
Laura: I prefer coffee.
19. Are you more efficient in the morning, in the afternoon, in the evening or at night?
Benjamin: I am more efficient in the morning.
Giulia: I'm most efficient in the morning and in the late afternoon, the hardest part is in between.
Laura: I'm most efficient in the morning. In general, it is the night work that is the most difficult for me. But if we don't have a choice, we have a couple of coffees and we' re back on track.
20. Do you prefer handwritten or electronic notes?
Benjamin: I like both. I adapt to the situation.
Giulia: I prefer handwritten notes.
Laura: If I'm thinking or creating, I need handwritten notes. For the rest, I prefer computer notes.
21. Can you define yourself in 3 adjectives?
Benjamin: I prefer to let others answer this question.
Giulia: Smiling, impatient and empathetic.
Laura: I am attentive, optimistic and persevering.
22. If you were a piece of software?
Benjamin: I'm going to answer Salesforce, otherwise I'll lose professional credibility.
Giulia: I would be Canva, Prezi, Figma, or another software that facilitates artistic, creative, and visual creations.
Laura: I would be Teams.
23. If you were a gift?
Benjamin: But I am a gift.
Giulia: A trip.
Laura: I would be a scented candle.
24. If you were a comfort food?
Benjamin: I would be a burger, pizza, Sunday night pancakes, sausage, cheese, bread, family meals, red wine... It's hard to answer precisely, there are so many good things.
Giulia: I would be a fresh pasta al ragù, homemade of course.
Laura: I would be a chocolate cake.
25. If you were a book?
Benjamin: I would be too many books. There is too much diversity in my reading. I would be Coelho, Beigbeder, d'Ormesson for the contemporaries and Hugo, Rousseau, Rostand or Saint Exupéry for the "great" references. But if I have to quote only one work, it would be Victor Hugo's poem: Those who live are those who fight.
Giulia: I would be The Zahir by Paulo Coelho.
Laura: I would be The Little Prince by Saint-Exupery.
26. Tell us about your last trip?
Benjamin: I'm going to cheat for this answer: my last and most beautiful journey was becoming a father at the beginning of the year.
Giulia: I crossed a vast stretch of wilderness in Kyrgyzstan on horseback, accompanied by two friends and a local guide who spoke only Kyrgyz. I spent ten days without any network or other means of transportation than my horse. An adventure made of breathtaking landscapes and untamed animals, sleeping in tents and sharing simple meals; sometimes we cooked like cowboys thanks to our gas stove, and sometimes we had dinner with the inhabitants of tiny mountain villages forgotten by the modern times. I remember waking up at dawn, feeling the first rays of sunlight, brushing my teeth in the nearest stream and playing with foals and local children.
Laura: My last trip was to Paris with my little one. His eyes were wide open in front of the Eiffel Tower. We did a lot of walking through lit up streets, fresh air and happiness.
27. Finally, what is your long-term dream for the company and its development in Western Switzerland?
Benjamin: An agency that will have grown, more resources and more diversified in terms of skills, but above all loyal and satisfied clients as well as happy and proud employees.
Giulia: To become the reference digital experience agency in Western Switzerland, with a bigger local team, ready to seduce the rest of Switzerland.
Laura: My dream is a great team, different and complementary profiles, a good atmosphere, happy clients and a permanent evolution.
Many thanks to the entire Western Switzerland Tinext team for their answers and anecdotes. We trust that they have allowed you to find common ground, or at least to get to know the team from a new perspective. Thank you for reading, see you in our next article.
Listen to the second episode